Parker, AZ
Roberts Racing is revitalized after taking full advantage of the mid-summer break in the Best in the Desert racing series. Test time is a luxury for any team, but with an ambitious schedule of short course and desert racing, Roberts Racing was eager to go over their Trick Truck in meticulous detail. They were able to properly diagnose the engine issue that brought a promising run at Vegas to Reno to an end and are ready for the upcoming Blue Water Desert Challenge. "We completed a tough, 65 mile test yesterday that verified our adjustments," said team owner Jared Roberts, "The Roberts Racing Go-PartsRacing.com Trick Truck is dialed in and ready to go!"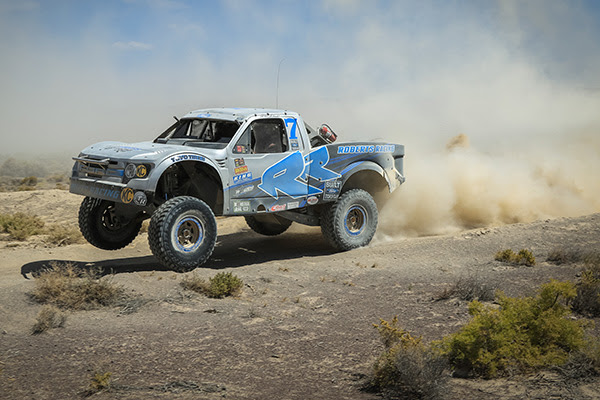 In addition to an effective tuning session, they also shot a television commercial for sponsor Go-PartsRacing.com which debuts on October 16th. They are encouraging everyone to participate in #thisiswhywewrench. You can share your story about why you wrench at Go-PartsRacing.com. Go-PartsRacing.com is the only online parts source you need to keep your car or truck going strong. They have the names you trust with expertise you can count on. They have over 250 top brands, fast shipping (most orders shipped in 24 hours), Live Chat support, price matching and a lifetime warranty; all guaranteed. Go-PartsRacing.com also has 2048-Bit SSL Encryption for secure shopping. Simply input the year, make and model of your vehicle and you can feel confident that you're getting the best parts at the lowest possible prices. You can also take advantage of their experience and know-how to help make your installation or replacement easy and hassle-free.
Easy and hassle-free is not what lies ahead for Roberts Racing at the Blue Water Desert Challenge in Parker, Arizona October 8-12. An intense shoot-out that comprises back-to-back days of racing in a heat race format will be held in Parker's demanding combination of deep sand and rocky trails. Fortunately, they have the best support and highest quality components from Go-PartsRacing.com, Toyo Tires, Specialized Automation Services, Racer Engineering, MOMO, King Shocks, KC HiLites, TrailReady Wheels, Howe Power Steering and F&L Racing Fuel at their disposal.
Racing gets under way on Thursday when the team will qualify for starting position on a specially prepared course. For all the latest info about Roberts Racing, be sure to head over to https://roberts-racing.com/ where you will find news, photos, videos and a full report after every event.
Photography By: Bink Designs