Tooele, UT
Mayhem and mechanical maladies took a bite out of Roberts Racing at rounds 7 and 8 of the Lucas Oil Off Road Racing Series in Tooele, Utah. The team was looking forward to taking their momentum to Tooele after Dale Dondel had a convincing win at Lake Elsinore in round 5. The momentum they had got lost somewhere on the road to Utah.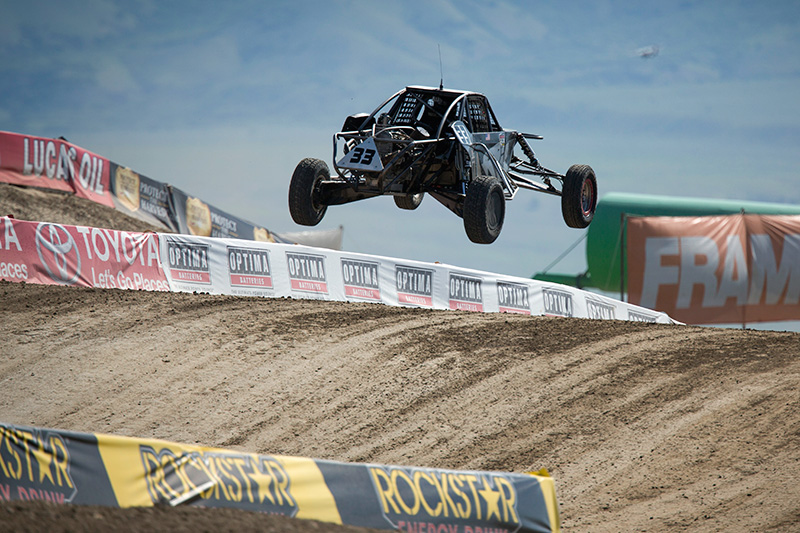 Having never been to the Miller Motorsports Park track, Dale Dondel had no set-up notes or guidance on what tire compound to run on his Pro Buggy. Race tires are modified for track conditions by cutting additional channels in the tread. Narrow grooves are typically for a hard packed surface, wider voids are for deep mud. The tread pattern they chose to run was basically a guess. His Toyo Tires were getting great grip on the slick blue groove that developed but tread pattern was challenging in the mud.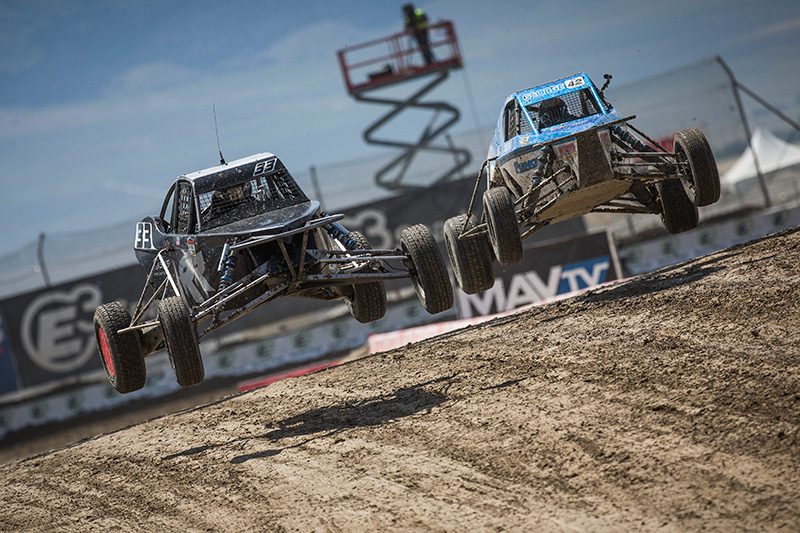 The track was wet during qualifying on Saturday, Dale slide around a bit; qualifying in 8th place. After an inversion he started 6th; he would have a lot of work to do. "I got pushed out into the fluff and spun the car," said Dale, "We set the fastest lap but it was a struggle getting to the front. It wasn't obvious at the time but we hurt the engine. After the inversion on Sunday, we started on the pole. In the first corner second place drove around us. After a caution and the re-start, we kept dropping back; the car would not drive out of the corners. Eventually, it was so down on power I had to pull off. It was either a bad bearing or we stretched a rod and clipped a valve."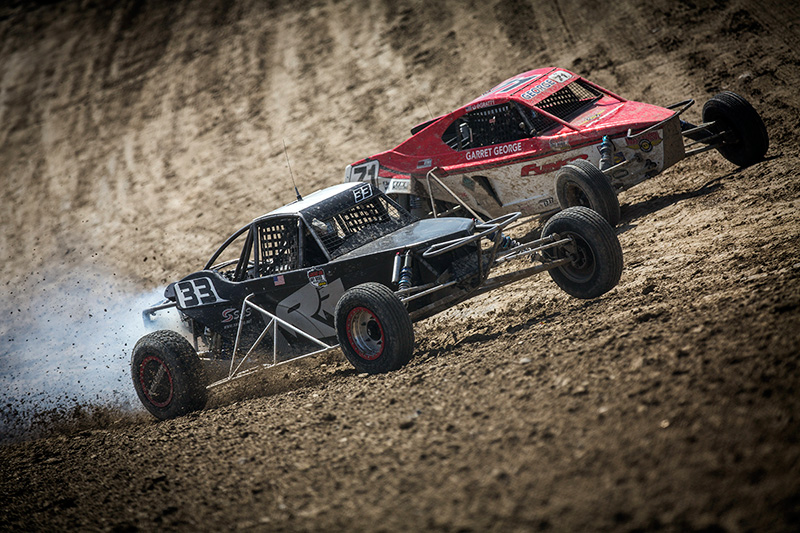 For Mike Dondel, this season has been a learning process; trying to get his Toyo Tires, Specialized Automation Services, Racer Engineering, MOMO, King Shocks, KC HiLites, Howe Power Steering and F&L Racing Fuel Pro-2 sorted out. He was trying out a new set of Jamar brakes during round 7 on Saturday.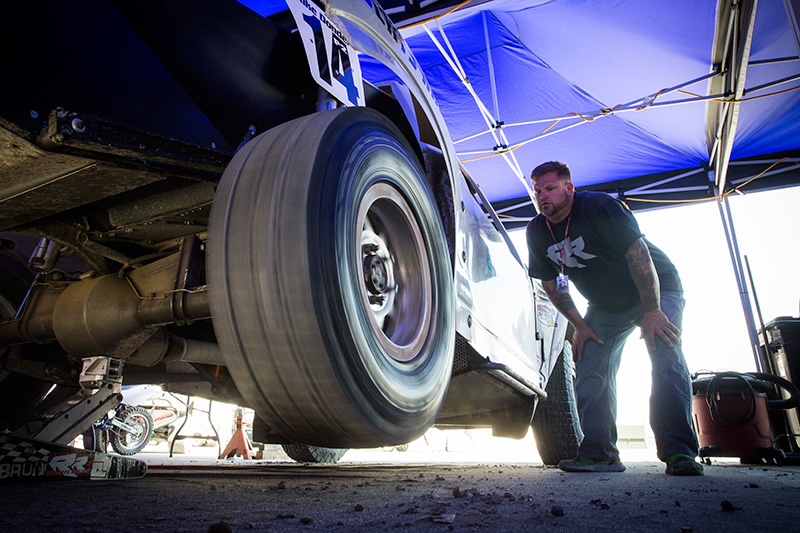 The results were both good and bad. "The Jamar brakes are phenomenal," said Mike, "They grabbed so hard, the caliper mounts ripped off the rear end housing."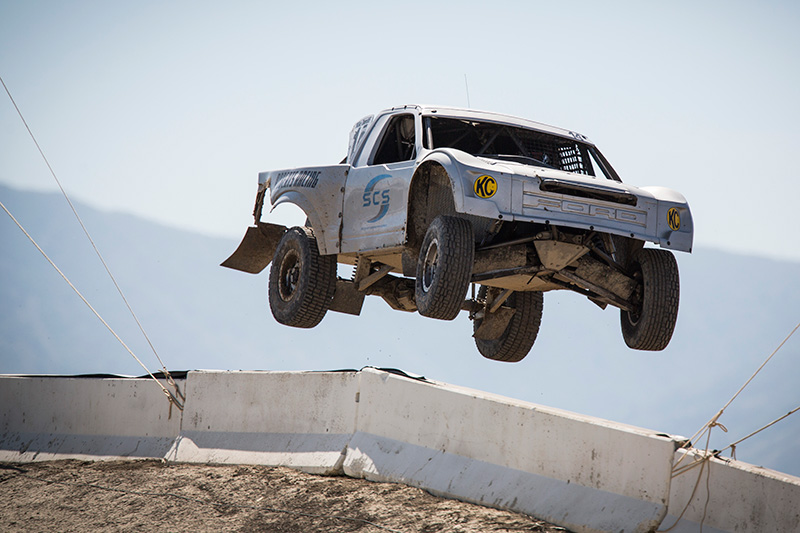 Round 8 on Sunday is still somewhat foggy for Mike. Another competitor took a bad hop and got sideways in the rhythm section of whoops. The truck hit Mike in the rear pinning him against the wall and then rolling him violently.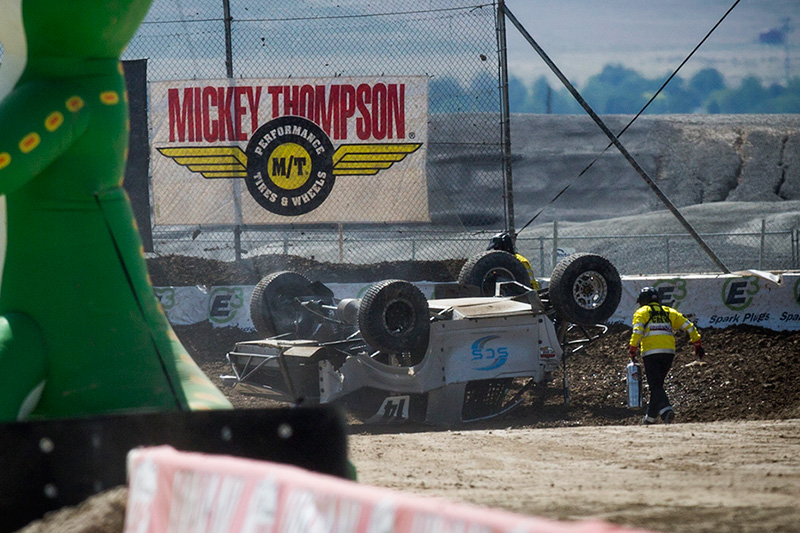 He only remembers a couple rotations before waking up in the medical center. He is scheduled for a cat scan and is sore but hopefully will have no lasting effects from the crash. "I have some work to do before Glen Helen," said Mike, "I was already putting together some of the spare parts that take a while to get, so I have a new rear end housing. The rear end was broken in half but the front heim joints on the trailing arms are fine. It must have broken during the collision when I hit the wall."
The Roberts Racing Team is constantly evolving. It's a huge undertaking to put together both a desert and short course racing team simultaneously. Thankfully, they have assembled a team that excels at getting the job done. It all starts at the top with team owner Jared Roberts. (Jared & Son Pictured Below)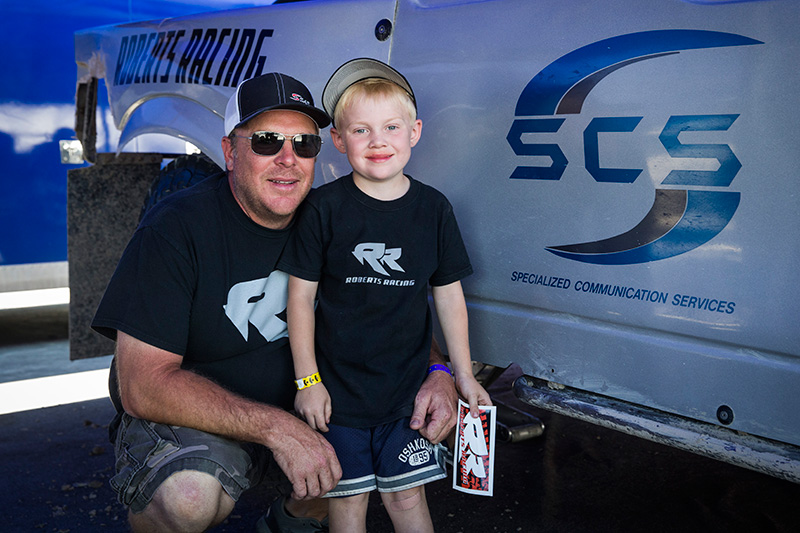 When a fan came up to Jared and Mike in Tooele asking for a team shirt, Mike apologized for not having any shirts left. Without hesitation, Jared peeled off his own shirt and gave it to the fan. The fan said it was even more special to him knowing it was Jared's shirt. It looks like Jared needs to add a shirt to his list of spares he carries on a race weekend.
Roberts Racing will next travel to Glen Helen Raceway in San Bernardino, CA. July 18 and 19 for rounds 9 and 10. For more info on attending go to http://www.lucasoiloffroad.com/
For all the latest about Roberts Racing, be sure to head over to https://roberts-racing.com/ News, photos and a full report after every race can be found there.
Photography By: Bink Designs