Las Vegas, NV
The Best In The Desert Canidae Tap It Silver State 300 is a favorite of many racers. A 300 mile point to point race, the course travels through remote terrain that is as beautiful as it is challenging. Deep desert silt, twisty mountain passes lined in trees, even some water crossings are all part of the course. At a leisurely pace it begs you to stop and take it in. At race pace it becomes very demanding.
The Roberts Racing #7 Trick Truck, with Dale Dondel behind the wheel, will be going for an incredible ninth straight #1 qualifying position at Silver State. Keeping the streak alive will be no easy task but with support from Toyo Tires, Specialized Automation Services, Racer Engineering, MOMO, King Shocks, KC HiLites, Howe Power Steering and F&L Racing Fuel they are always in contention. With miles of tight twisty sections on the course, starting up front will be a huge advantage. If anyone can pull it off, it will be Dale Dondel with Brother Mike Dondel in the co-rider's seat. They have demonstrated their incredible speed countless times. At the Silver State 300, Dale, Mike and the entire team will be hoping to use that speed to their full advantage.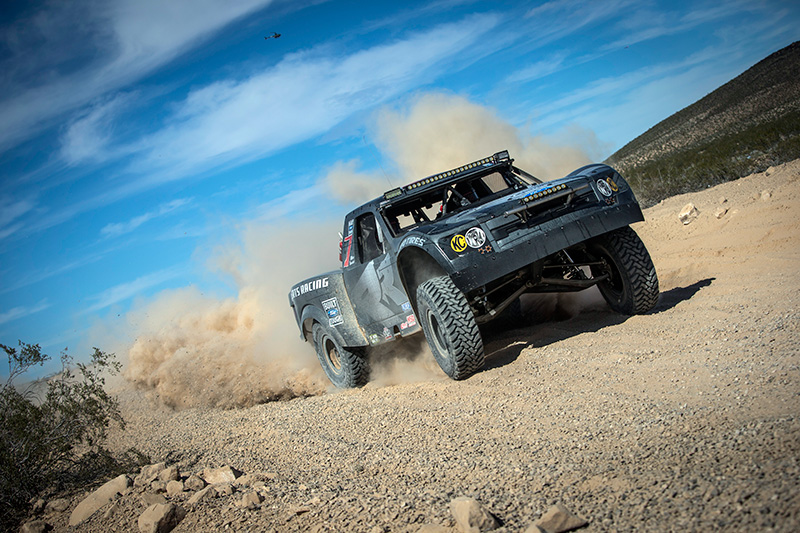 It all begins Thursday, April 30th when the team qualifies for starting position. Friday, May 1st is contingency at the Aliante Casino Hotel in Las Vegas, Nevada. On Saturday, May 2nd, a 120-mile transfer section will get racers to staging in Alamo, Nevada. The 4 wheeled competitor's stage at 8:30 a.m. and leave the line at 9:30. The Silver State 300 will be an incredible race and an awesome adventure for Roberts Racing. For all the latest about Roberts Racing, be sure to head over to https://roberts-racing.com for news, photos, videos and a full report after every race.
For more info on attending the Silver State 300 race go to: http://www.bitd.com
Photography By: Bink Designs